Coming in June!
Planned vs. Actuals on Biz Reviews
Select the planned vs. actual chart type on Running Business Reviews to visualize progress made on key results against the targets the team set out to achieve. 
The graphs will display the key results actuals over time to showcase the progress trajectory.
Quick access to all your Team OKRs
See the OKRs of the teams you are a part of and contribute to directly from the My Objectives page. The objectives will be grouped by teams, and will show objectives from both functional and cross-functional teams.
Key Results with multiple targets over time
Create and visualize quarterly objectives with targets for each month, or annual objectives with targets for each quarter. 
Example: Annual objective with a key result: New bookings of $1.3M for Snazzy Solution in 2019
A target can be set to measure performance per quarter, while generating an overall view of progress towards the annual target.
New bookings of 200K for Q1
New bookings of 230K for Q2
New bookings of 220K for Q3
New bookings of 650K for Q4
Also coming soon:
Grouping and organizing your objectives and workstreams on your Running Business Reviews by topic or category.
June 2019 Release
Enhancements to viewing and updating your Objectives
A few enhancements to the My Objectives page to make it easier to tune into your OKRs and focus on the results you and your teams are trying to drive:
New "Update Key Results" button

 – Brings your focus to the Key Results that require data from you. Update your key results with a few quick clicks, so you can spend more of your time calibrating on your results.

Edit a single Key Result

 – Now you can edit your Key Results directly from the "OKRs I own" tab. Click

 the kebab menu next to the Key Result you want to edit and select "Edit Settings". 

 You no longer have to edit your objective to edit your key results :)

OKR Groupings

 – If you manage or co-manage multiple teams, you can view your OKRs by team. Your Personal OKRs are grouped at the bottom of the page. 

TIP! Sort OKRs within a Team grouping.

 
Team Filters

 

–

 

Filter your Team OKRs by teams you Manage, or teams you Manage & Co-Manage

 
Notification Filters
Review your notifications with more intention! Filter notifications by action items & @ mentions or OKR notifications. The filters are not sticky so each time you view your notifications you won't overlook anything important.

May 2019 Release
Organizing your week just got easier with the new My Work Dashboard! See the results you're driving and the work you're doing to get there all in one view.
Your New Weekly Dashboard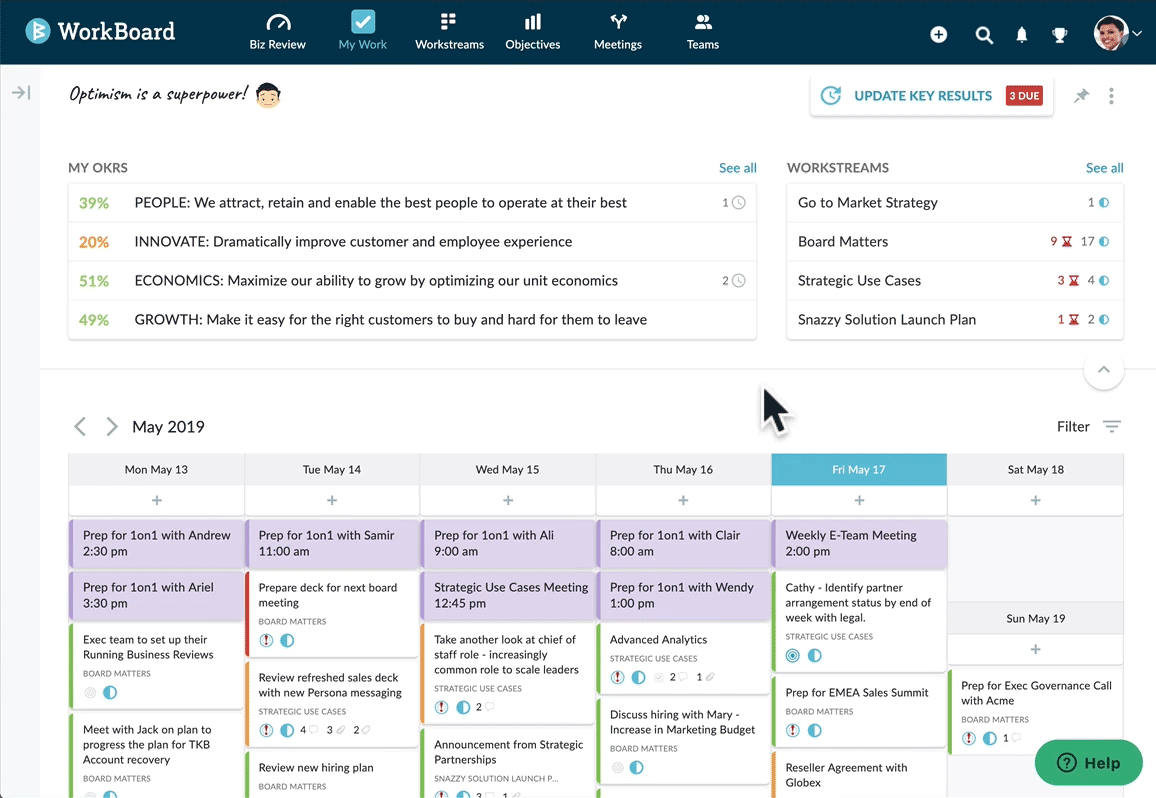 Plan your week around your strategic priorities — your OKRs and top initiatives are always in view. Filter your weekly list by status or workstream and focus your efforts where you can make the most impact! You can even update your key results right from here.
Showcase Your Results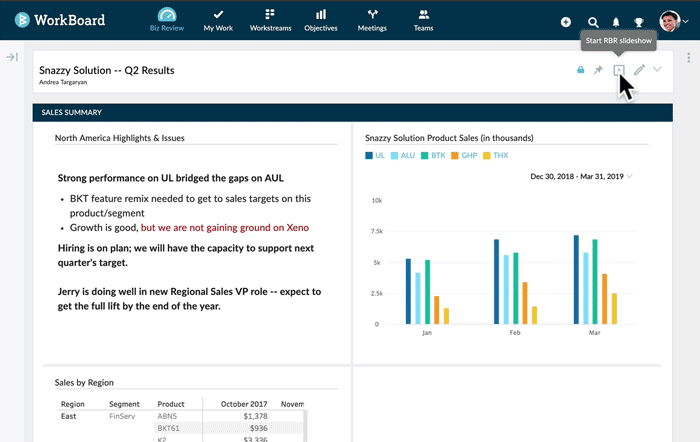 Present your Running Business Review in slideshow mode during your next meeting. Easily highlight your charts and OKRs.
Publish the Latest Results Narrative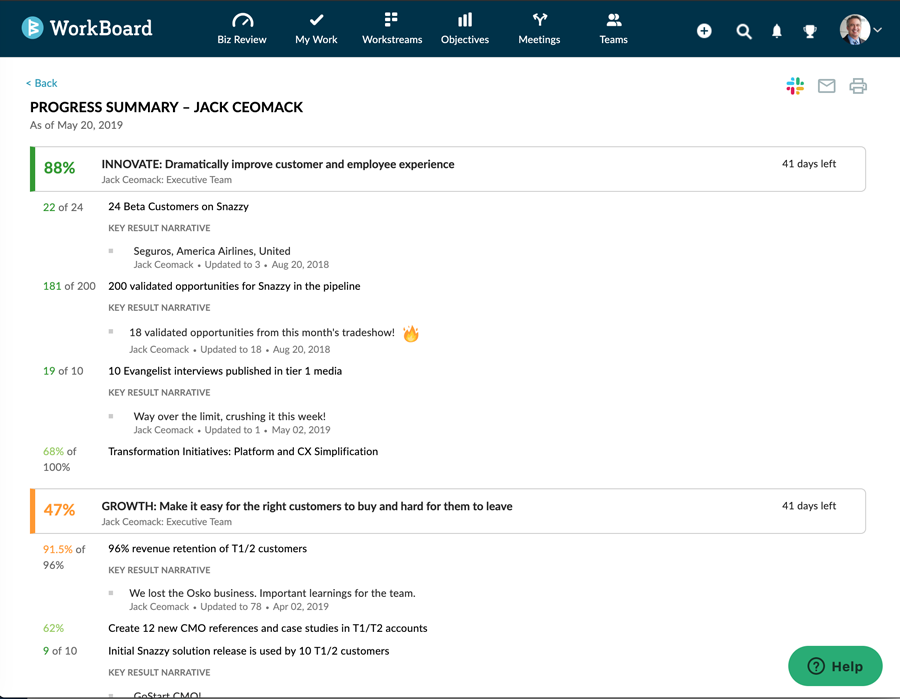 Include the latest comments inline on your results when you publish your OKRs to email, print, Slack or Microsoft Teams!
---
March 2019 Release
Create and edit OKRs fast with a conversation-style wizard. Your quarterly reset just got easier!
Watch this video for a quick tutorial:
The OKR Wizard includes the following new and refined capabilities:
Easily mirror a key result from another objective — you'll get instant updates, and any comments made on the original will be visible on your own OKR. You can mirror any key result you have permissions to view.
Roll up key results more easily: Quickly roll up results and display total or average progress on your objective. Include any key results you have permission to view, as long as they share the same unit of measurement (number, percentage or currency).
More efficient key result cascades: Set individual targets for each recipient, or let them set their own targets. Recipients can create their own KR in a single click, and choose to update data themselves, delegate updates to another user, or cascade the result further to multiple team members.
Change objective owner: By default, team OKRs belong to the team manager, but you can change the owner to any team co-manager.
Smart date ranges: When you create a new OKR, the start and target dates will auto-populate with the start and end dates of the current quarter (you can still change them as needed)
Greater transparency control: By default your OKR will be visible to the entire organization. Choose to restrict visibility to the upline management chain of the team manager and objective owner, or to the objective owner's direct and dotted reports. You can also define specific teams that can see your OKRs — ideal for controlling access to sensitive business data.
Change key result source type: If you change your mind about how to update a key result (via an individual contributor, workstream, integrated business data system, and so forth) you can easily change the source type. The result name and target information will be transferred to the new result. (Note that data from prior updates will not be carried over if the source is changed).
Create custom workstreams during KR setup: When adding a key result sourced from a workstream, choose to create either a custom or completion workstream.
Faster Comments on IOS
Keep the conversation flowing — @mention colleagues while collaborating on action items or OKRs on mobile coming soon!
Performance Enhancements
We are continuously working to make WoBo snappier! Our latest optimizations enable:
Faster page load times
Quicker search responses
Faster data entry and updates
Smarter dropdowns
Learn more about this release by listening to our Q1 2019 WorkBoard Community Call!
---
January 2019 Release
Get better visibility on your team's results and your organization's strategic alignment with better business reviews and a clean alignment view.
Organize Your Key Results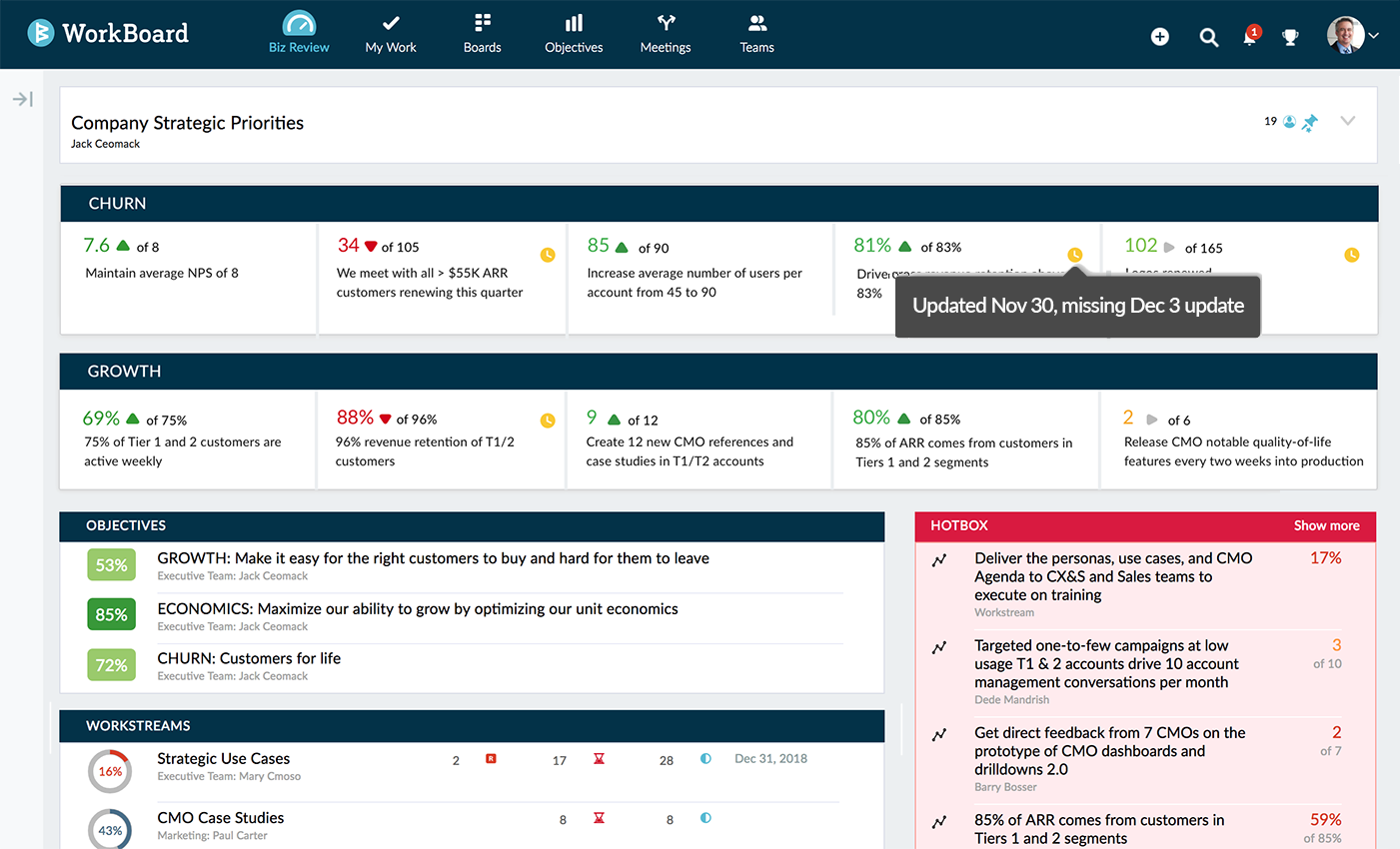 Organize key results on your Running Business Reviews by topic or category, and see at a glance what's falling behind.
Get Clarity on Alignment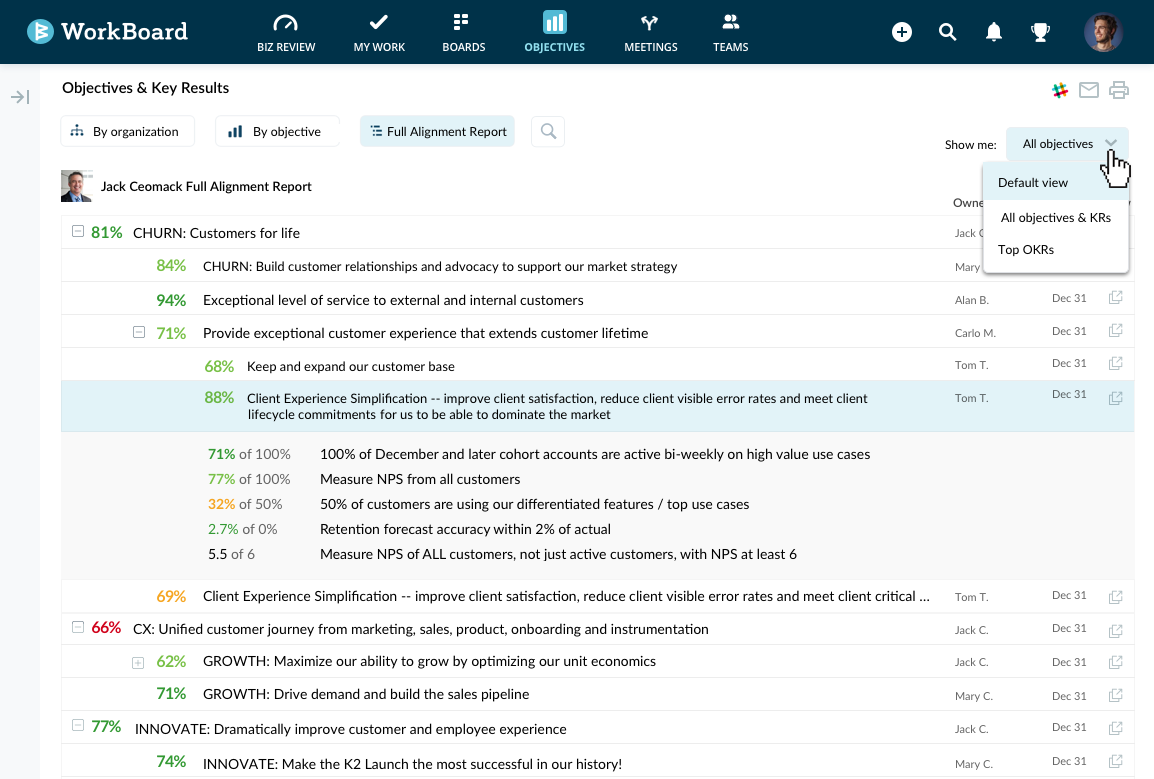 We've spiffed the Full Alignment report — open and close downstream objectives more easily, choose whether to show or hide key results, or get a quick view of just the top level objectives. Now it's easier to visualize how your organization's strategic priorities are aligned!
Customize your Progress Boards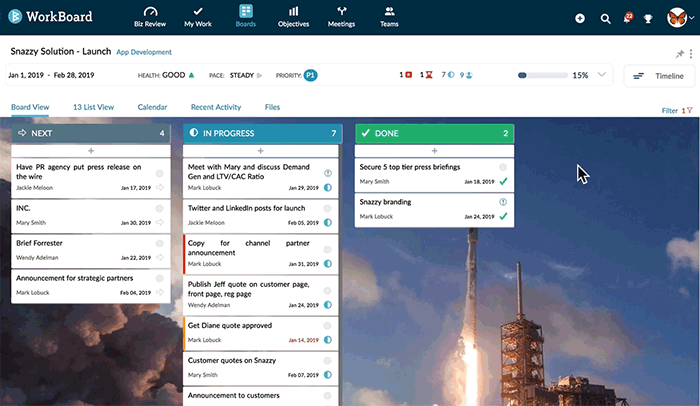 With one click, convert an existing progress board (with columns for paused, next, in progress, done) into a customizable workflow board. Add as many columns as you need, and use automations to change action item states or owners as you move them between columns.
Keep the Focus on Key Results
Remind an individual, team, or the entire organization to update overdue key results with a single click.
To request access to this feature, chat with your Customer Success Advocate or contact us.
And more
Opt out of "Update KR" notifications once you've hit your target
Access your Profile from Settings
Crop your Profile header photo
UI spiffs on OKR details alignment tab
Change the date of an individual Team Meeting or 1on1 in a recurring series
Add multi-line topics to meeting agendas
Reorder Chart and Key Result groups on Running Business Reviews
---
December 2018 Release
New IOS and Android apps with search capabilities
Search for OKRs, action items and past meeting notes and decisions from the mobile app! This release also includes support for our EU data centers and connectivity in addition to a few bug fixes. Download the iPhone app or Android app now.
And coming soon...
Gmail add-on
Create quick follow up action items and easily manage your to-do list with the new Gmail add-on! Delegate actions items, place them into workstreams, and even add people to the loop right from your inbox.
November 2018 Release
Member profile page
Show off your impact on the organization's strategic priorities, personalize your page with your favorite photo, and get and share insights on your contributions! Your new personal profile page includes:
The dynamic and functional teams you are engaged on with a visual for the intensity of activity in each
Your social feedback and badges
Current quarter results you're responsible for
The OKRs you are contributing to
Insights about your impact over time
Jump straight to a team's OKRs
The Jump To search in the left navigation is getting smarter! Search for any team or OKR owner and jump to a handy summary view of all their OKRs.
Board improvements
Ever wanted to quickly scan a Kanban board and understand how work is distributed? Each column will now show a count of the action items in that column, so you can better gauge your workflow.
---
October 2018 Release
Weighting on Key Results
When you are working to achieve an objective, some key results may be more critical to success than others. With key result weighting, you can now add a multiplier to increase or decrease the relative weight of each KR in the calculation of the overall progress of the objective. You'll still see the actual progress of each key result on the OKR detail view.
To turn on key result weighting for your organization, chat with your Customer Success Advocate or contact us.
OKR History views
Get a full history of all changes made to an OKR after its creation. Users with permission to view the objective can click the new History tab on the OKR details to see when results were updated, targets were adjusted, owners changed, dependencies were added or removed, and much more. For audit purposes, Org Admins can also view the history of all changes made to the organization's objectives on the OKR History page in the Administrator Tools.
To turn on OKR History views for your organization, chat with your Customer Success Advocate or contact us.
Board improvements
View the full history of changes in a workstream on the Recent Activity tab
Filtering a board by multiple tags will return action items that match ALL the selected tags.
Use column automations to clear the due date or send an email notification when an action item is moved into that column.
Action Item date options: If you manage or co-manage a team that uses workstreams to track items that do not have specific due dates, configure your settings so that new action items are created without start and end dates. (You can still add dates to individual action items as needed).
Meeting improvements
When you move a topic from one recurring meeting to the next, you can choose to move any associated takeaways and notes as well.
Notification enhancements
Search your notifications
New email and in-app notifications when key results are updated (whether or not the update includes a comment)
Opt out of OKR update email reminders on your preferences page
Jira integration enhancements
When you create a workstream that is automatically sourced from Jira:
Map Jira issue statuses to Workboard's action item statuses (Paused, Next, Doing, Done).
See a sample of the issues that will be pulled based on your JQL query
Simpler SSO login
If your organization has enabled SSO, you will no longer be prompted for a password when logging in.
Manage work belonging to former team members
If an employee leaves or changes roles, team managers or co-managers can now easily transfer their action items to another member as they remove them from the team.
Define progress ratings for your organization
Every organization defines success differently. For a team that sets aggressive stretch goals to drive best possible outcomes, a 70% success rate may be outstanding. On the other hand, if your organization sets targets that absolutely must be met, objectives with anything less than 90% progress may be at risk and in need of urgent attention. Define the progress ranges at which objectives should show as being at risk or on track based on your own organization's needs. You can also replace Workboard's default RAG colors with your own organization's progress rating color scheme.
To define progress ratings and colors for your organization, chat with your Customer Success Advocate or contact us.
Enhanced domain security
Organizations can restrict access to action item attachments to a defined set of IP addresses. Users accessing Workboard from an unapproved location or device will not be able to download attachments.
To turn on download restrictions for your organization, chat with your Customer Success Advocate or contact us.
---
August 2018 Release
Better business reviews and slick meeting improvements are here! Have data driven meetings and run your business for results. Check out the family photos below and watch the August Community Call replay to hear more.
New Charts on Tidy Running Business Reviews (RBRs)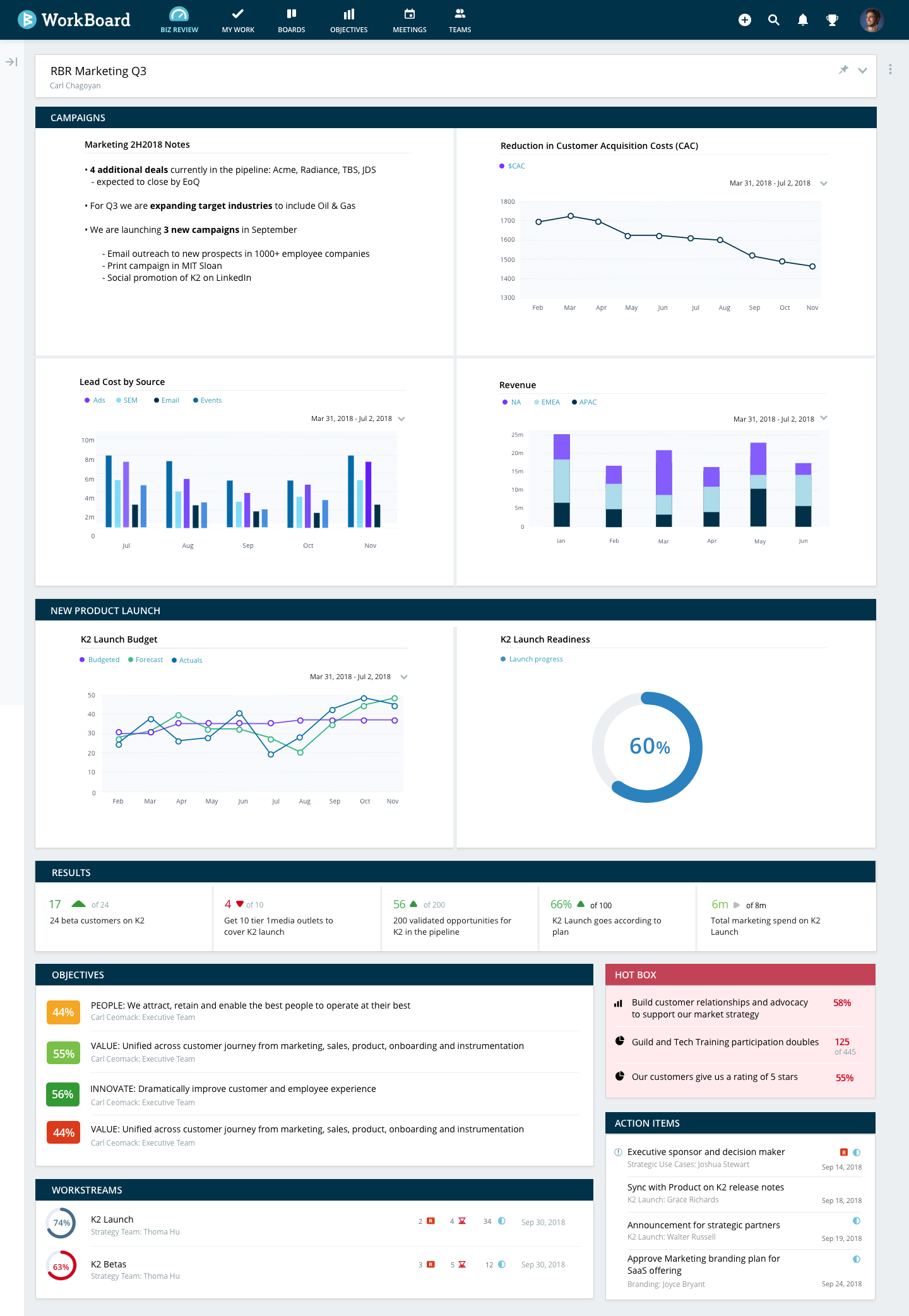 Organize charts by topic or category, display data as a donut or stacked bar chart, and choose your own chart and table colors. Publish as a pdf with graphs included!
Connect Meetings with Workstreams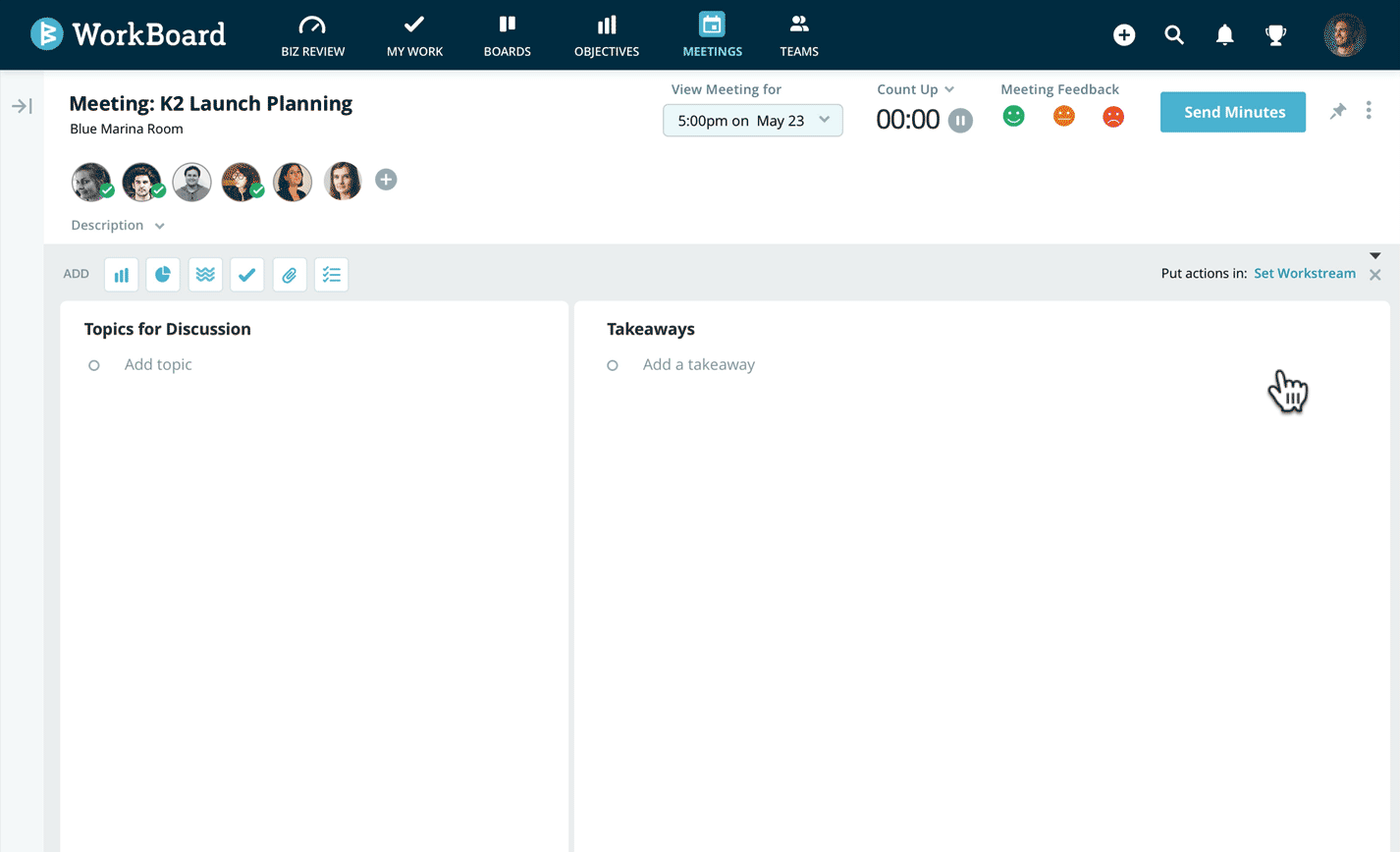 Link all meeting takeaways to a workstream! Quickly see a list of last meeting actions to include one or more in this meeting. And we've fixed saving your notes ☺
All Your Boards Now on Mobile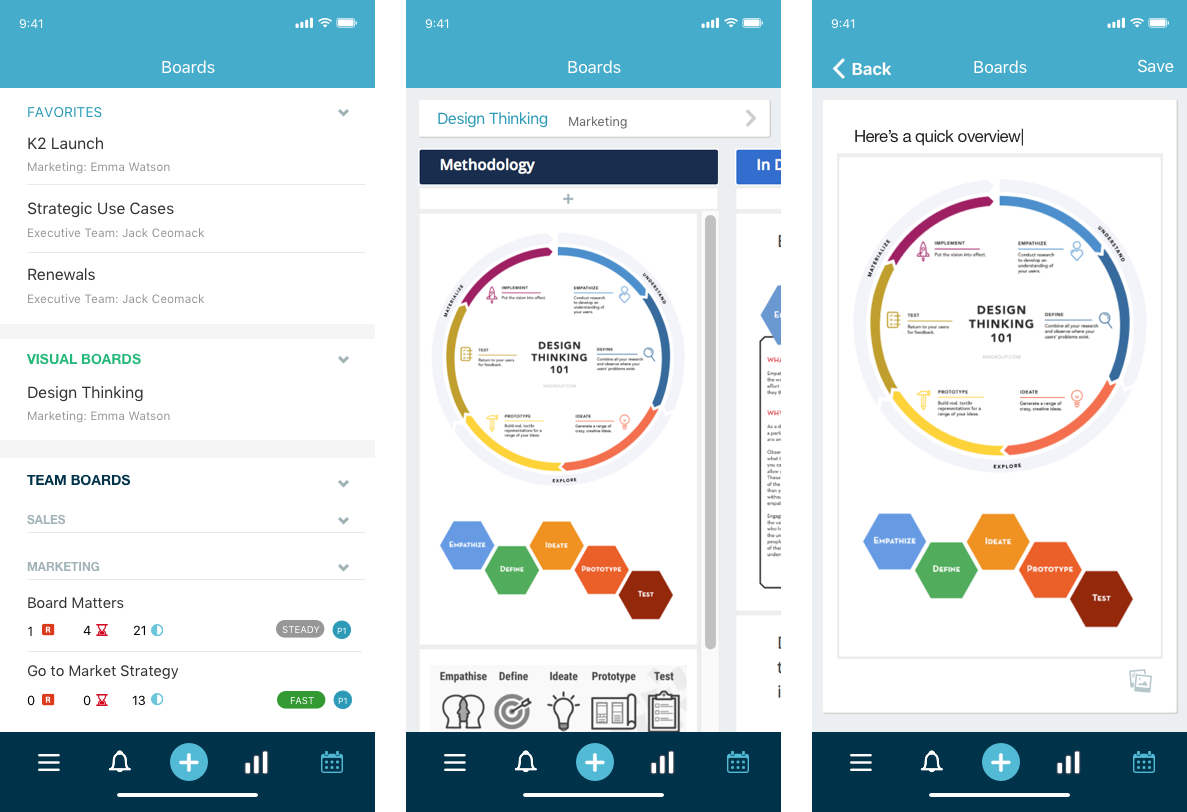 Browse and access all collaboration and visual boards from your phone!
And more
Customize your JIRA integration
SSO on mobile
Run the app in a browser on iPad with full capability
Categorize and sub categorize your objectives
---
July 2018 Release
Add Tables and Text to Your Running Business Reviews (RBRs)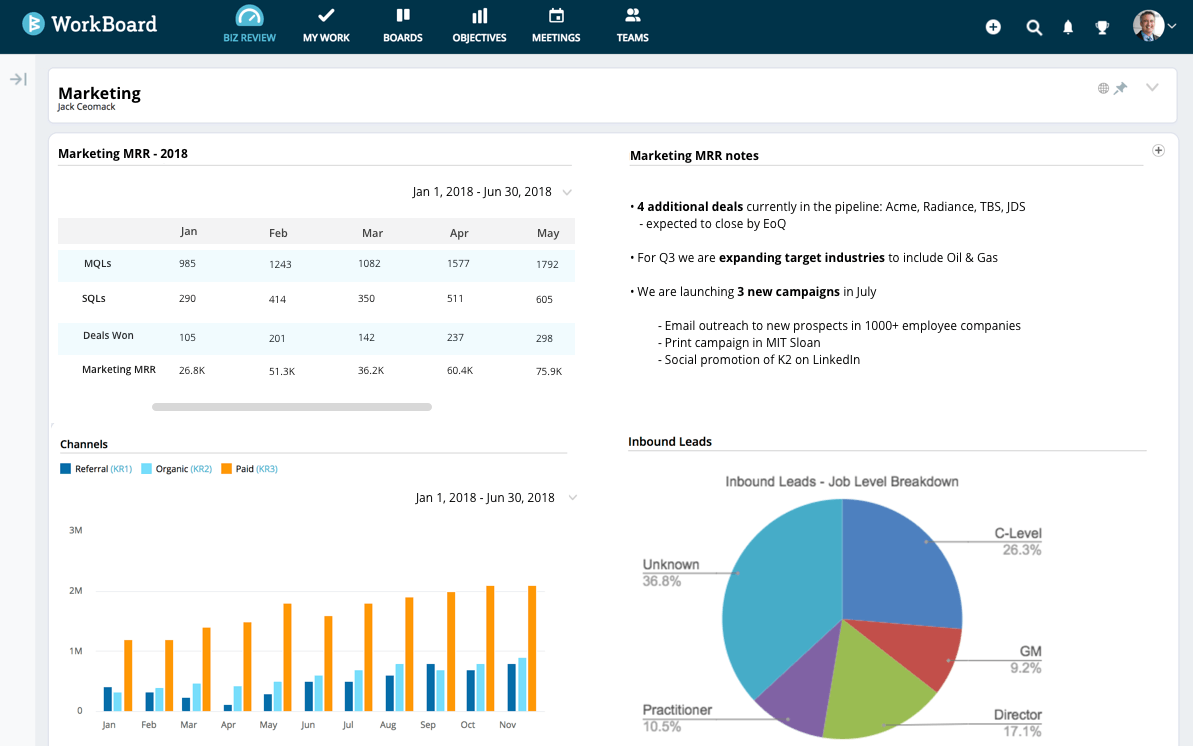 Sometimes you need a bullet list next to a chart and sometimes a chart isn't the ideal way to present your data — now add free text to your RBR and show your results in a simple table. Goodbye slide formatting!
​New Outlook Calendar and Email Plugin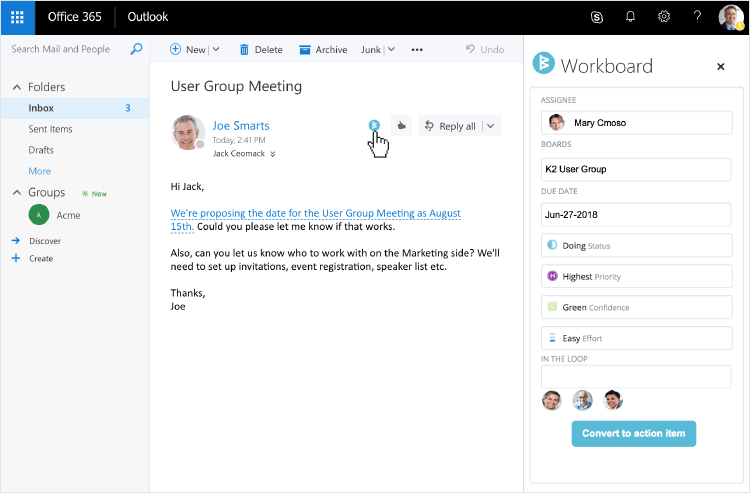 Schedule Workboard meetings or add action items from Outlook with one click! Install the plugin!
Filter boards by owners, priority, risk, status or tags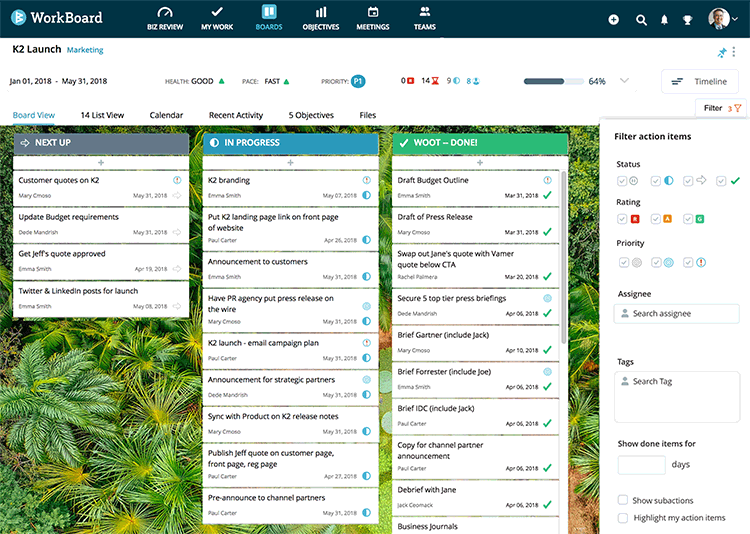 Track and manage work more easily by viewing what's most important. Show only at-risk items, or tasks belonging to a particular team member.
Create Action Items from Slack Messages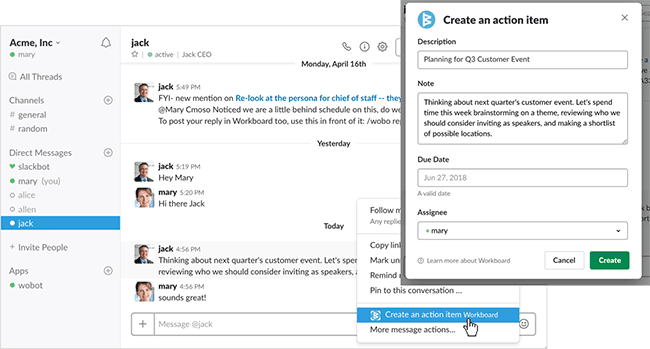 When an actionable idea comes up during a Slack chat, turn it into a Workboard action item with one click! You'll be able to share status and collaborate on execution without searching through old conversation threads.
Community Call Replay: See What's New and What's Next
Get a high level overview of all your projects with "super boards," add action items right from your Chrome browser, chart data from your other business systems on your Running Business Review dashboards — see all this and more on the June Community Call Replay.
---
April 2018 Release
The April 2018 release includes new web navigation, full Microsoft Teams integration and much more — log in now to check it out!
Pin Favorites to Top of Menu in All-New Navigation
A sleek new menu bar moves to the top of the page and displays what you recently used so it's all one click away. Pin favorite objectives, workstreams, and actions to the top of the menu list. Jump to specific workstreams, objectives and items from a much-improved left panel navigation.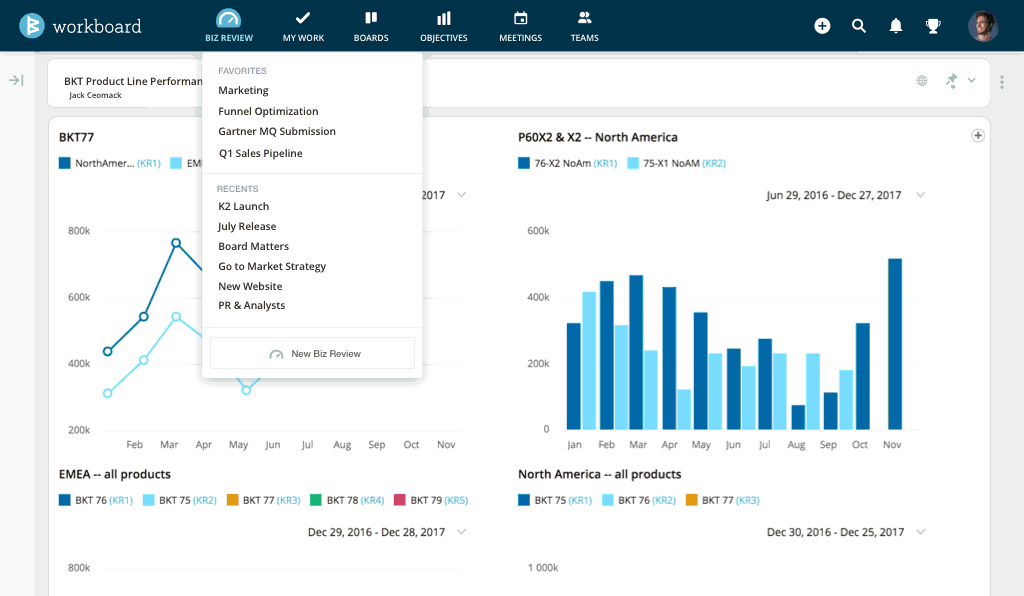 ​Display Data from Other Sources on Business Reviews and Dashboards
Take your Running Business Reviews to the next level by adding graphs, charts, images, and videos from other business ​systems. Now the top of your Business Review can include graphs of your key results, charts from Periscope or Tableau, and images of product or team — anything with an iFrame.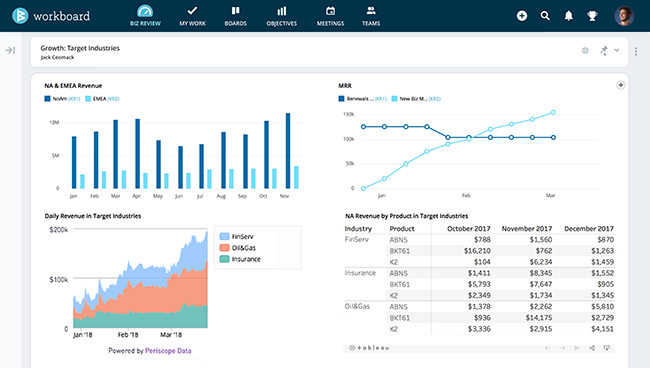 Workboard in Microsoft Teams
We are super excited about this powerful integration: ​Chat with Workboard in Teams to get or update results, grab Workboard data and charts to include in a chat with colleagues, and view My Work and Business Reviews as tabs within Teams. Enable the integration now!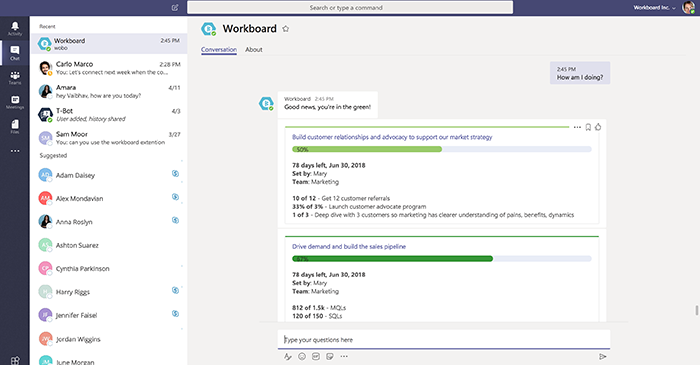 Meetings 3.0: Track Along & Get Feedback
Check calendar availability as you plan the Workboard meeting. As you move down the meeting agenda, the topic being discussed is highlighted so it's easier to follow along. And we've made note taking even easier. After the meeting, ask for feedback ​on the meeting itself so your team get smarter about its time!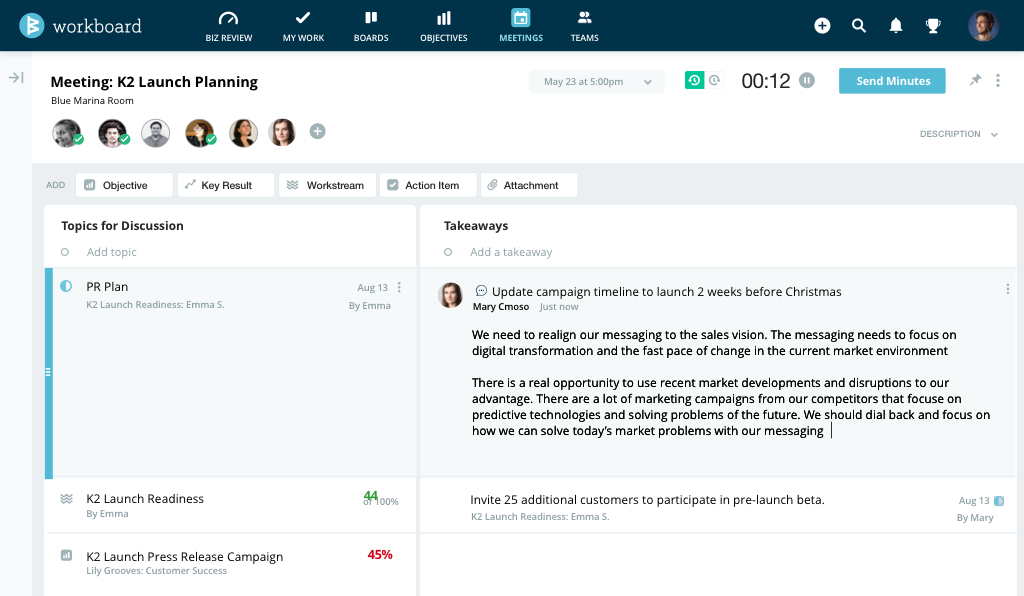 Get an overview of the new features in our April 2018 Community Call
---
February 2018 Release
Now you can add automations to your Workboard kanban boards and assign meeting actions more easily! We've cleaned up some inconveniences as well that you'll notice by their absence.
Automate Workflows
Set automatic actions for each column on your board to change status, owner, priority or other attributes every time an item is dragged into the column. Skip steps and updates to save time! Use custom boards to create your own columns and automations to tailor your own workflows. ​It's perfect for managing approval flows, or moving projects from draft through design to production. Learn more.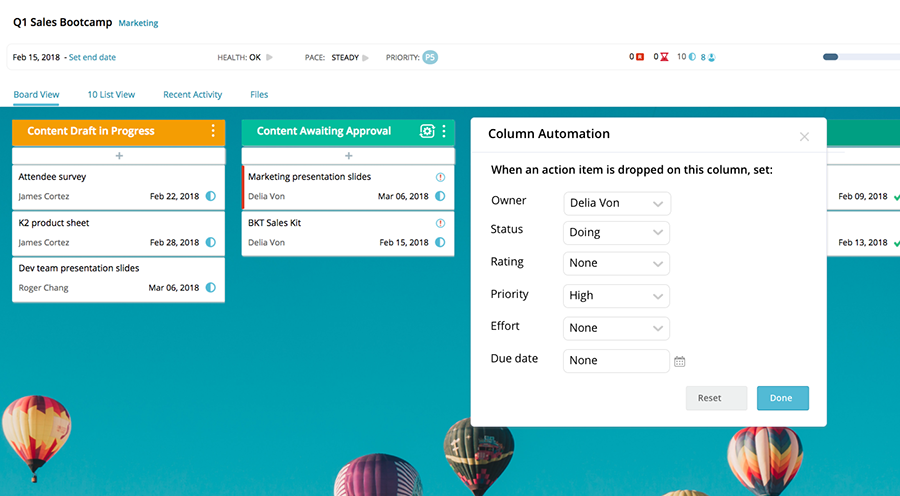 Assign Meeting Actions Faster
Use social quick conventions to capture, categorize and assign action items faster in meetings. Use @ mentions to assign action item owners, "#" to add ​the item to a specific workstream, ​and ​put an exclamation mark ​"!" ​in front of the day/month to set a due date​ (Good move @Developer Don #newrelease !02/28)
Insights & Roadmap Review
Check out the improved navigation and more coming in March and April in our February 2018 Community Call
---
January 2018 Release
Our January 2018 release helps you rock the new year! Add charts to your Business Review dashboards and trick out your boards with photos and more. Log in now to take advantage of these new features:
Chart Your Success!
Add charts to your Business Reviews to trend and compare results. Combine up to 5 metrics on a chart to compare product, sales, business or team performance over time; add as many charts as you'd like. Remember you can create as many Business Review dashboards as you need and share them with colleagues. This may just be the end of powerpoint reporting!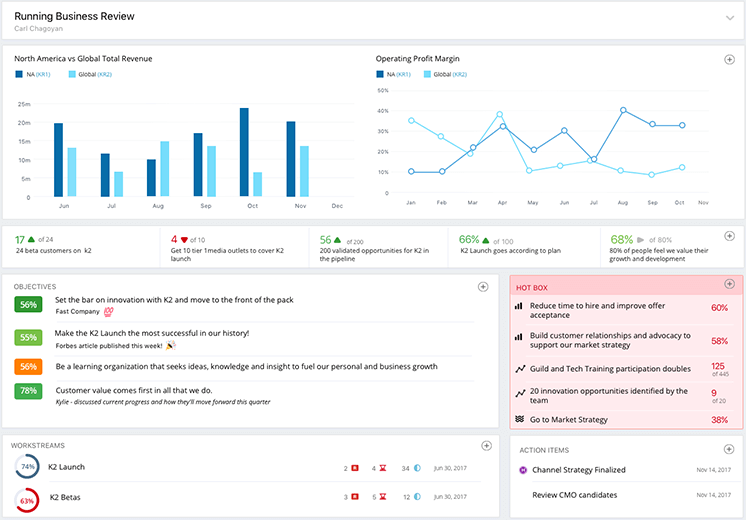 Trick Out Your Boards!
Spice up your team's boards with photo backgrounds and color coded columns. May your work be more distinctive and fun in 2018!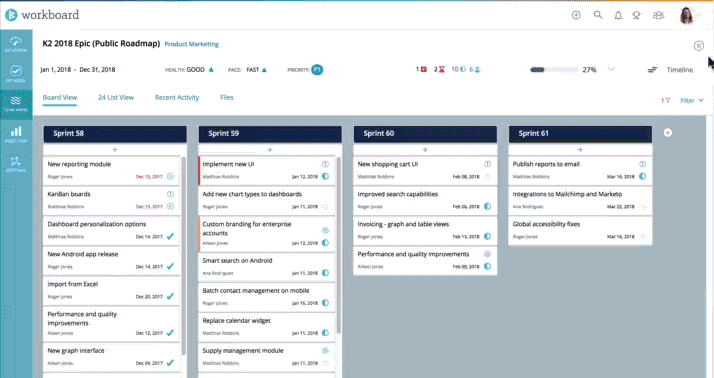 ---
November 2017 Release
Our November 2017 release includes several capabilities that help you communicate team outcomes and execution with colleagues: Share your business reviews, sync data in other Dev or tasks systems easily and get kanban boards on Android. Log in now to take advantage of these new features:
Customize Team, Product or Business Segment Dashboards
Create multiple Running Business Reviews (RBRs) for each part of the business, product line or organization.
Invite others to contribute items to a shared RBR and use for huddles, management reviews or group dashboards.
Publish dashboards to individuals, teams, or the entire organization.
Include and exclude the elements you want (objectives, key results, workstreams, or action items).
Learn more in this 5-minute video!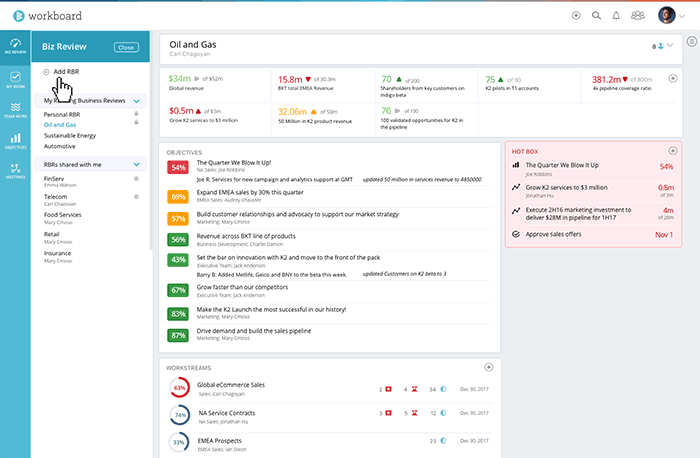 Source, sync and share work in JIRA, GitHub and Asana
Whether your team just needs to have a clearer connection between strategy and objectives and their work or you're trying to get a unified view of work across too many apps, it's easier now!
Pull JIRA, GitHub, or Asana data and its status into Workboard automatically
Decide what to include (issues, tickets, stories, tasks, projects) and how much detail (items or stats like completion % or count)
Use work data in Jira, GitHub and Asana in your RBRs, metric and key results, execution dashboards or meeting agendas
Learn more with this short video!
Watch the replay of our November Community Call to get all the details. (You can also download the slides.)
---
October 2017 Release
Our October 2017 release includes several new capabilities that will make life easier, meetings better and your impact bigger!
Have Smarter Meetings
Takeaways are now aligned with their topics — it's easy to connect the two. Quickly add OKRs, workstreams, action items or files to the agenda to facilitate data-driven decisions. Plan meetings right from Slack, or start unscheduled meetings anytime using the Meet Now button. Take long notes more easily and get detailed minutes via email following the meeting. Get all the details!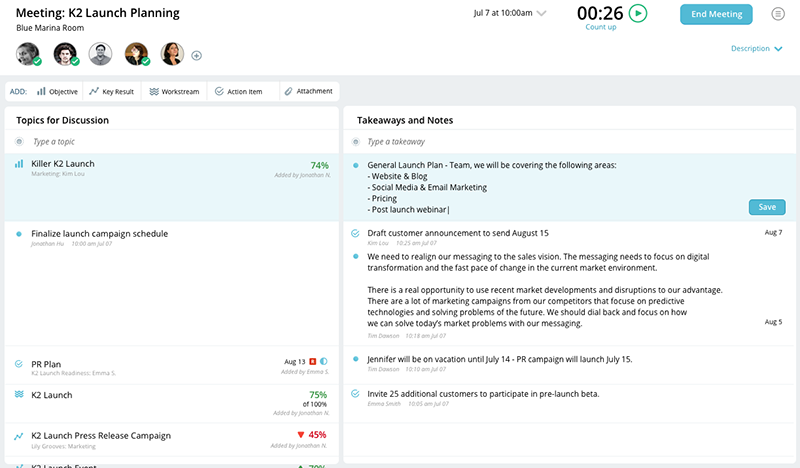 Plan Project Timelines With Interactive Gantts
Select a time scale on your Team Work Gantt charts that fits your project horizons — days, weeks, or months. Sort workstream timelines by priority, start or end date, or alphabetical order. Color-coded Gantt bars show project health at a glance. Plus, the Workstream summary status is back on its own dashboard — neat, tidy and the way you liked it. See a preview!
Maximize Team Impact with Workload and Bandwidth
Use the new Workload and Bandwidth view to help the team do the work that matters. See and compare team members' workloads, and find available capacity for new projects. Visualize team time allocated by priorities, projects, and OKR-aligned work. Learn more!
Watch the replay of our September Community Call to get all the details and benefits from these and more exciting new capabilities coming to Workboard over the next few months:
Create and share multiple Running Business Reviews
Let data flow more easily with native integrations to JIRA, Asana, GitHub and other apps
Share workstreams with everyone in the org
(You can also download the slides).
---
August 2017 Release
Our August 2017 release includes several new capabilities to help you drive results and execute more efficiently.
Organize your boards any way you want — Manage a product roadmap with columns for each quarter, or track relationships with multiple key clients using a column for each customer. Include as many columns as you need, and group related tasks into columns regardless of their status.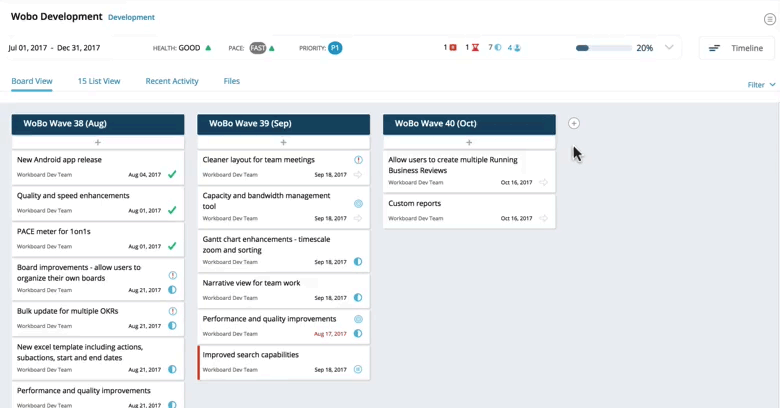 Batch update dozens of objectives and key results all at once — Post monthly revenue numbers for hundreds of products, or weekly expenses from dozens of cost centers. Transform the spreadsheet you export from your transaction system into trendlines in Workboard that help you predict whether you'll hit your targets — and give everyone visibility. (This batch update capability is a nuclear superpower! Reach out to us to get your finger on the button...)
Import project templates for a fast launch — If your projects tend to be similar — such as onboarding customers or managing release cycles — create the actions and subactions once in an Excel template and import them as needed into Workboard. Simply update start dates, due dates and action owners prior to import, and in moments everyone will have their own to-do list that they can work and collaborate on from web or phone.
Learn how to take advantage of these enhancements in the recording below.
And watch the replay of our August Community Call to get all the details and benefits from more exciting new capabilities coming to Workboard over the next few months:
Cleaner meetings layout
Flexible Gantt charts for visualizing project and individual workloads
Create and share multiple Running Business Reviews
Design your own report and status board
(You can also download the slides).
---
August 2017 - Android App Release
New Android App - Now with OKRs and Meetings! Released on August 8, the Workboard Android app now includes full OKR and meetings capabilities to help you stay connected on the go! View and update your OKRs, browse organizational objectives, update multiple key results at once, and plan and participate in meetings and 1on1s from your phone — including adding takeaways during the meeting.
---
July 2017 Releases
In our July releases, we focused on improving user experience and platform performance to help make using Workboard a much smoother experience. We also introduced enhancements for 1on1s and subaction item importing capabilities.
Quality Fixes
Layout and formatting fixes for readability
Reduced scrolling
Search instead of scroll to complete selections faster
Consistent terminology, date formatting, menu and icon placements across the app
And more!
Performance Improvements
Our July releases have resulted in significant load-time improvements on several pages in the app:
Page
Load Time
June 2017
Load Time
August 2017
My Work - Today
5 seconds
1.9 seconds
My Work - This Week
4.5 seconds
2.8 seconds
All My Work
4.2 seconds
2.8 seconds
Team Work - Board
4 seconds
2.5 seconds
Team Work - List
4.4 seconds
2.8 second
Meetings Dashboard
5.3 seconds
2.1 seconds
Team Meeting
8.1 seconds
3.1 seconds
1on1s Dashboard
6.2 seconds
2.3 seconds
1on1 Meeting
5.2 seconds
2.1 seconds
My OKRs
5.8 seconds
3.1 seconds
Heatmap
5 seconds
3.2 seconds
Alignment
5.6 seconds
3.1 seconds
Timeline
7.1 seconds
3.8 seconds
Engagement
5 seconds
3.1 seconds
Action Item Popup
4 seconds
1.8 seconds
OKR Popup
6.1 seconds
2.2 seconds

1on1s - Add Skill Level to the Conversation
We've added a new dimension -- Competence -- to the graph at the top of the 1on1 meeting page. The PACE meter (formerly known as the EPA meter) allows both manager and team member to rate the team member's Performance, Alignment, Competence and Engagement. By adding Competence to the mix, the meter now serves as a starting point for conversations around skills and skill-building during your 1on1s.
Import Subactions from Excel
It's now easier than ever to create a reusable template or work list for your projects. In addition to importing action items from Excel, you can now import their related subactions as well.
---
June 2017 Release
The June Workboard release makes it easier to manage team capacity, coordinate projects, and set and distribute the key results you need your team to achieve to stay on track. Log in to take advantage of these improvements in driving great results:
Visualize and coordinate team work: Plan team projects more easily with handy new Gantt charts on Team Details — drag the endpoints to adjust start and end dates, or slide an entire project to move it up or push it back. Plus, manage team capacity with the new Timeline view on individual workstreams: quickly highlight each person's actions and see what's on each person's plate in a particular timeframe. Check it out now!


Cascade key results more easily: Flow the same key results through several levels of your org with far fewer clicks (just in time for your Q3 OKR reset!) Learn more…
Team Work Board spiffs: Choose whether to show or hide subactions on your boards, optionally highlight your own actions, and filter the "Done" column by due date. Plus, it's now more obvious when action items have notes or attachments. Check it out now…
And more...

Close meetings before their set start time (yay!).
Closed objectives now appear on Team Work Details.
Manager and member see both sets of OKRs in 1on1 meeting agendas.
In this Community Call recording, Workboard CEO Deidre Paknad previews these June release features, as well as what's coming in July and beyond:
(You can also download the slides).
---
May 2017 Release
In today's accelerating business world, you need fast access to data to make strategic decisions — and with these cool new Workboard features, your data is just seconds away! Log in and take advantage of these 3 big items and lots of small improvements:
Fast KR progress updates: Update all your key results at once from a single page; tab between fields for even greater efficiency. It's easy like Excel, but cuter — and instantly transparent to everyone on the team! Update your results now!


Instant KR history reports: View a full history of key result updates, including the narrative and details from rolled-up results; give a "thumbs up" on updates you love! With one click, publish the story of your team's progress to email or Slack. Try it now…


Team Work spiffs: Subactions are now indented under their parent actions on team work lists — better visibility. Archive, copy, move, or delete workstreams from the Board view as well as the list view. You can also move your entire backlog to another workstream in a couple of clicks — especially handy for agile developer teams. Check it out now…
And more...

Bulk change subactions on the action item detail page.
The interactive OKR alignment report has moved to the Alignment view under Objectives.
We spiffed up the "Results I Contribute" tab under My OKRs: you'll have better clarity into the KRs you own.
In this Community Call recording, Workboard CEO Deidre Paknad previews these May release features, as well as what's coming in June and beyond:
(You can also download the slides).
---
April 2017 Release
With the April 2017 release, take advantage of these 3 big items and lots of small improvements:
Board View of Team's Work. View deliverables and actions in a column format; drag and drop items within a column to sequence work and across columns as they progress from planning to completion. Click any item to get a see the detail. Name your columns, change backgrounds and more (plus, it's blazing fast!!) Learn more…


More Interactive Team Summary & Dashboard. Update workstream priority, health, pace, and narrative right from the dashboard view. Learn more…
Complete Interactive OKR ​Alignment ​Report. Publish a "full alignment" view that shows the entire OKR cascade in report format. Nine layers of OKRs? No problem, you can see it all. Learn more…


And more...

Workboard is now full-screen and will resize as you adjust your browser window
We tidied up the detail view of Objectives and Key Results, improved speed and made navigation a little easier to see.
In this Community Call recording, Workboard CEO Deidre Paknad previews these April release features and more:
(You can also download the slides).
---
March 2017 Release
With the March 2017 release, we think you'll be delighted with what we've simplified, streamlined and improved! Enjoy these enhancements and more:
Share Business Reviews. Curate and publish your Running Business Review via Slack, email, or print — add a note or narrative at the top for context.


Simplified Menu & Navigation. We've cleaned house a bit, reducing the number of main menu buttons to the ones you use most. My Work and Team Work are easier to navigate. There's a handy list of your directs and dotted line reports at the top next to search and badges. Open and and close all the items in the sub navigation in one click — it's the little things :)
Team Work Works Better. Check out the Team Summary page for a much-improved dashboard of workstreams with an easier view of the actions and objectives they drive. The whole team has access to the weekly snapshot of what changed in the week, including new red flags and what's been pushed back. The teams you manage are light green, so they're easy to spot.


Smoother OKR Creation. Well, this really needed to happen! Now your objective is visible every step of the way and you navigate through set up the same way you navigate on existing OKRs. When you create KRs and metrics, you'll see less complexity and still have all the capability. Surveys are much smarter, and it's easier to step through the whole process.
Better Conversations on OKRs. Search for specific OKRs or OKR categories and share them via print, email or Slack.
While there are many more details in the release, we'll mention just one more: Good emojis on OKR comments!

In this Community Call recording, Workboard CEO Deidre Paknad previews these March release features and more:
(You can also download the slides).
---
February Performance Release
As part of our focus on improving the speed of the app, we pushed the first of two performance-dedicated releases for the month on February 4. This release resulted in significant load-time improvements on several pages in the app:
Page
Load Time
(before 2/4 release)
Load Time
(after 2/4 release)
Heatmap
5.3 seconds
1.7 seconds
My OKRs
3.8 seconds
2.5 seconds
Running Business Review (RBR)
2 seconds
1.2 seconds
Team Work - Workstream
3.2 seconds
2.2 seconds
My Work - Delegated
3.3 seconds
1 second
Action Item Details
2 seconds
1.5 seconds
---
December 2016 Release
This release features the new Running Business Review and other enhancements that will help you finish big this year and get a fast start in 2017:
1. Running Business Review​™ gives you one full view of your world. Skip the onerous reporting cycles and get one cohesive view of your organization's objectives, key results and KPIs, and the workstreams driving outcomes with the new RBR! The RBR will be available on iPad this month, too. If you are an Elite Enterprise customer, activate your RBR here by checking "Enable Running Business Review," then tailor what you want to see on yours.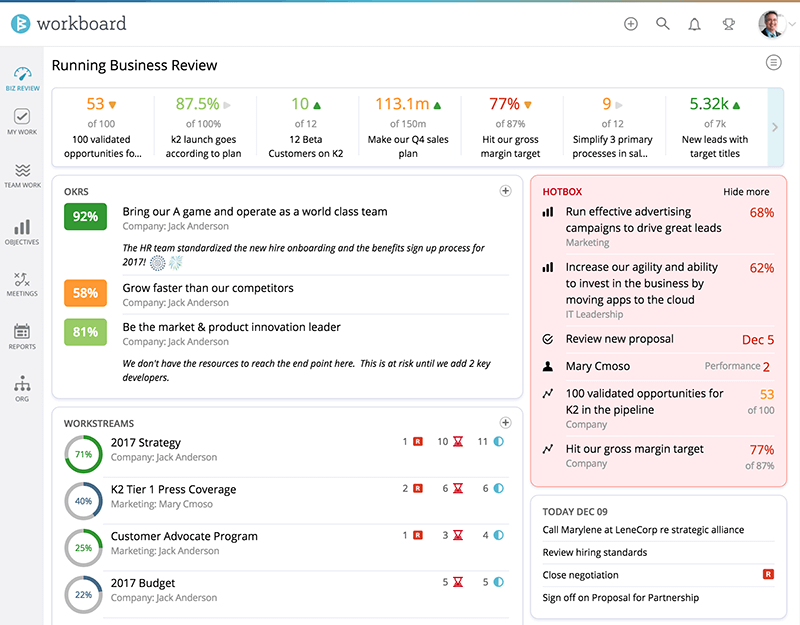 2. New wobo Slack bots give you fast answers. Get your objectives, risks, and activities for the day in Slack using the new bots. Just type /wobo bot in Slack and click what you want to see.

3. Get the right work done faster with these action item spiffs:
Now add images to action item notes.
Page forward and backward from the Today action item list.
​Filter on the overdue list and sub actions.
4. Yay, new badges! Throw around some of our new badges and enjoy the refresh on the originals.

5. ​Organize and publish goals and OKRs more easily. Creating, viewing and updating are now faster. We've re-labeled "Goals" to "Objectives" and "Metrics" to "Key Results" to simplify. Now, drag objectives in the order you want to publish them via Slack, email or print — one-click management reporting! Create enterprise categories of objectives for strategy pillars and filter them in the heat map. Objectives will be added to 1on1s automatically now.
Watch this 30 minute recording for a preview of these features. (You can also download the slides).
---
November 2016 Release
1. Slack a fast goal report. Pick any combination of goals (by goal name, team or user) and Slack a report! Our new Slack bot will even send your at-risk goals and metrics on Mondays so you can slay the dragon before Friday.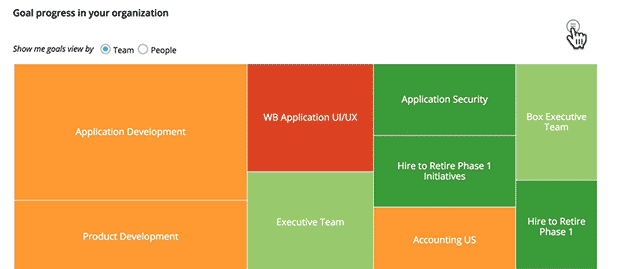 2. Make the most of your meeting time: Put goals and actions on the agenda in any order you want now. Use RAG bullets for takeaways, and see the number of decisions and actions from your meetings this year on your meeting dashboard.
3. Add a descriptive note to goals to let ​people know what you're measuring, how it ties to a multi-year strategy or any other narrative you want to convey. There's always room for more clarity.
4. Metrics just got smarter: measure progress from a starting value to target, multiply metrics by fractions and negative numbers for roll up metrics like gross margin, run rate costs and so on. Go on, get fancy.
5. Your heatmap defaults to your world, so it is immediately relevant; zoom in and out​ to see the whole world. More relevant and it loads faster.
6. Native integrations to Jira and Asana (if you really must use another tool!) to update metrics and key results. Use the public APIs to source metrics from anywhere and send WoBo data to other systems. Learn more »
7. More obvious functional and cross-functional teams with a new user experience for admins (sorry it took us so long to give you a ​nifty visual experience!!). For admins, it's easier to distinguish employee reporting relationships, functional organizations and working groups or cross functional teams. Learn more »
8. New Executive Companion guide and Collaboration Master guides: download as PDFs to make the most of Workboard or help someone else. Learn more »
---
September 2016 Release
Search Decisions​ from Meetings & More
It's crunch time, and you probably need to recall decisions made during the quarter. New search features make it easy to search meetings for decisions and takeaways. Search for goals, metrics, and action items, and filter your results by owner, due date, status and more.
Note that new search means we need to re-index millions of database items. Your most recent items are searchable now, but it may take another few days for the full index to complete and older items to show in results.
Beyond the Goal Cascade, The Goal Roll Up
Get fast score cards for a whole business by referencing goals within a goal. Create a single, top-level goal that automatically rolls up the goals from ​your e-staff​ goals or other goals. The detail view on the parent goal will show the current status of each ​child goal, and you can click into each one to see individual metric details. ​ This is a fast way to derive business unit goals.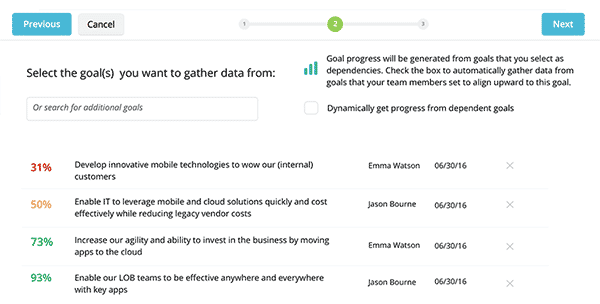 Friendlier OKR Wizard​ to Measure More
Workboard's kinder, gentler OKR Wizard makes it easier to take advantage of the many ways to measure business progress. Not only are metrics easier to set, you can also update them directly from Excel and Google sheets — go to custom integrations on the profile menu.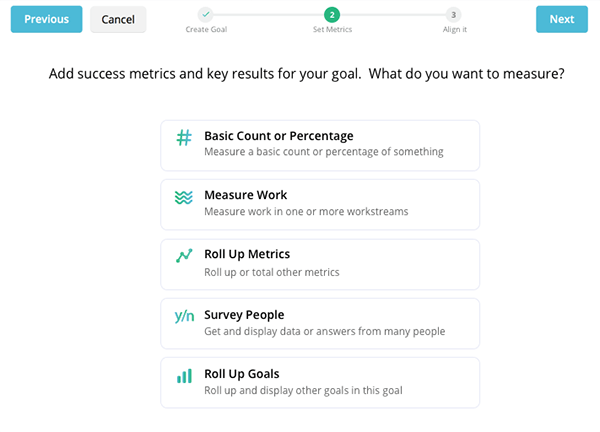 See Actions Your Boss Sent and Boomerang Them Back Faster
Now action items This Week and notifications from your boss are shaded to help you quickly spot​ them. If your plate is overflowing, it's easier than ever to ​catch what's important to your boss. The new "boomerang" feature makes it easy to save, close and return it to your boss (or whoever sent it to you) with one click.
Smart End to Your Week
Check out the spiffy new managers' summary: progress on important metrics in the week, a full view of where you are on goal, and key execution stats neatly delivered in email Friday afternoon.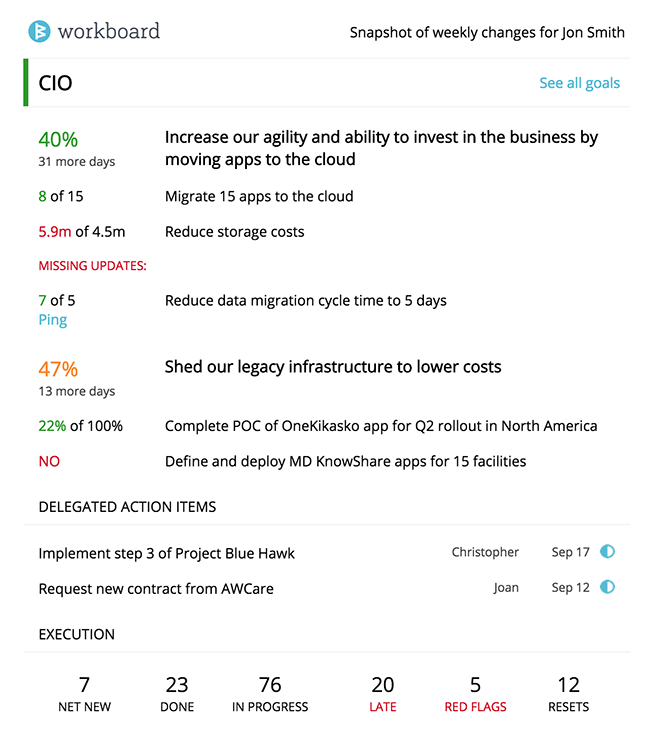 And a few more things:
Close meetings without sending a summary, resend summaries, or send summaries to coworkers not in Workboard.
Heatmap filters ​are sticky now — and September is a great time to watch your heatmap!
Import action items to multiple workstreams and add people to the loop.
Get an instant view of your goal dependencies from the My Goals page.
For more details on this and upcoming releases, watch the September Community Call.
---
August 2016 Release
See Team Progress At a Glance
As you check in on your Q3 goals, click on your team's name in the heat map to get a new, uncluttered view of your team's progress. At a glance, you can see the status of each goal and metric, and an alert will show any downstream goals that are in the red. Plus, you can easily print this view and share it with people outside Workboard — great for quick status reports.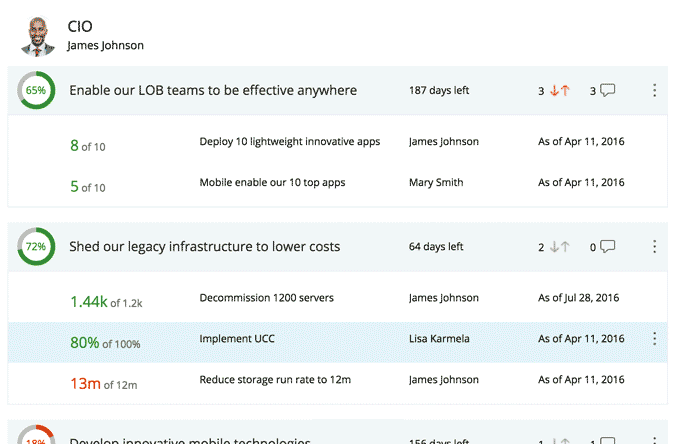 More Efficient Goals and Metrics
We're introducing 4 improvements to make setting goals and updating metrics easier: 1) The enhanced OKR wizard now includes help popups for every field, with usage examples. 2) You can now use one survey metric to gather data from multiple people. 3) If a metric you created at the beginning of the quarter becomes irrelevant by midquarter, you can now exclude it from the overall goal progress calculation at any point during the goal period. 4) Comment on any metric update at any time — or even add a comment without a metric update — to provide more context to the update.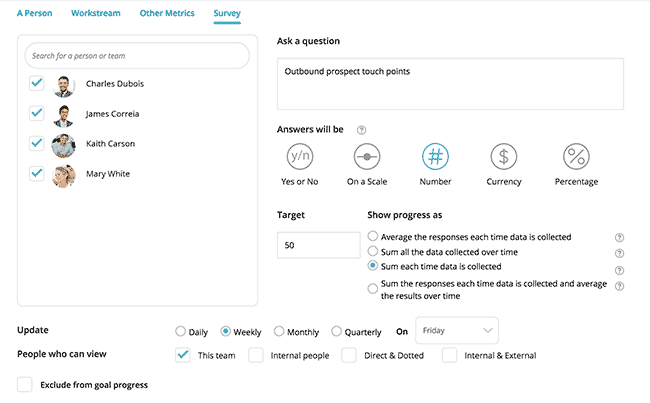 Cleaner Action Item Experience
We've modernized the design of the Action Item detail page to make it cleaner and easier to use. The form is now a popup rather than a separate page, so it both loads and closes faster. Plus, now any changes you make will automatically be saved — fewer clicks and less worry about lost data!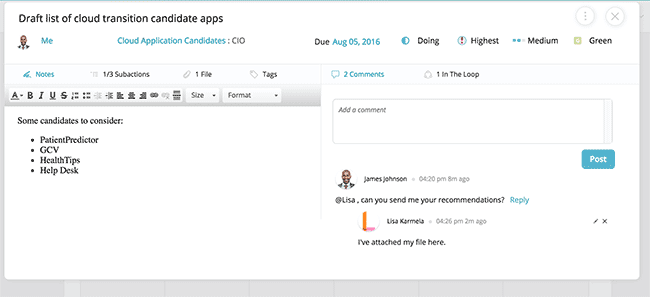 And More...
We've also added a number of other small improvements to make Workboard faster and easier to use:
Give a badge to several individuals at once, or to an entire team.
View a team's action items in a calendar view.
Resend meeting summaries to any invitees.
Move goals from one team to another.
Watch the pre-release July Community Call for more details.